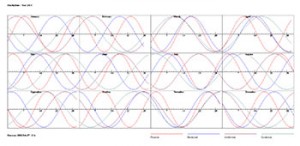 Think it would be nice to know when you are at the top of your game, or when it is time to take a few extra days making a major decision to make sure you are making a wise choice? A BIORHYTHM CHART REPORT can tell you that and so very much more!
You know how some days you just seem to have more energy than others? Well, the belief that our lives operate on cycles has been around for millennia. Hippocrates (as in the Hippocratic Oath – ancient Greek physician) noticed that people went through good and bad cycles – whether people were healthy or sick. However, it was not until the research of the early part of the last century that the three primary internal cycles (physical – 23 days, emotional -28 days, and intellectual – 33 days) were identified.
What Your Biorhythms Chart affect/influence
I can help you put the knowledge of your own internal rhythms to work for you!