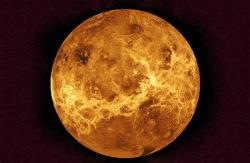 Venus – Goddess of Love – what more needs to be said? This beautiful planet, often referred to as the sister planet to our own, is one of the most recognized by the average modern person. Of all the planets it glows with a soft light in the night sky. Luminous with a glow much like the moon, although many times lighter, Venus rules our emotional self. Love is the single strongest and most important emotion in humans. Humans have been known to accomplish nearly impossible feats for the sake of love. We dream of finding love. We hold on to love when we find it because it is so precious. But love is not the only emotion. There are a plethora of emotions ranging from bitter hate to fatal attraction, with a very fine line between the two extremities.
I have a friend who refers to Venus as the "attitude check" planet in her chart. Until that moment I hadn't realized it, but she was right. When looking to check in on your emotional compass, look to Venus for help in calibration. This beautiful planet is considered to show our capacity for appreciation as well as love. Social graces come under her control, and her effects are definitely felt in the realms of friendships too.
Venus is aligned with sensual/sexual energy. If you find yourself becoming over emotional about situations – your temper getting out of hand focus on Venus and her place in your chart to help you regain the calm center that allows you to appreciate the beauty, love and harmony that is in the world around you. So strong is her appearance in the skies as seen from our place here on Earth, she rules not one but two Houses and Signs.