Dr. Nikki has an alter ego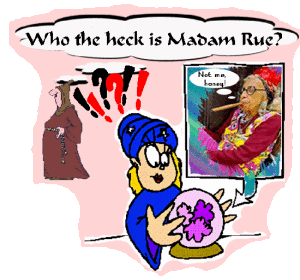 New Age Parties are all the rage today! For those in the local area (within driving distance of Bozeman, Montana), or those who are willing to pay travel and accommodation costs, Dr. Nikki has an alter ego
Madame Rue is an eccentric character who has done readings in a variety of public venues including Renaissance Fairs, Wedding reunions, recreation Showers, Wedding Celebrations, Bachelor Parties, Birthdays, Baby Showers, business conferences, family events such as Fur Rendezvous and much more. If you are looking to add some new excitement to your next party or looking for a fun way to entertain guests try something new, Madame Rue just may be the answer you are looking for.
Madame Rue can be tailored to suit your particular needs. Whether you are looking for a larger than life over the top gypsy personae to add color, a medieval wise woman, or a corporate "suit" that shocks everyone, we can make it happen. If you have a particular theme, with enough advance notice Madame Rue can tailor her costume to your event.
Dr. Nikki and/or Madame Rue are available for both private and commercial engagements.
NOTE:
Readings done in an entertainment venue are conducted with the focus on fun and entertainment. If your guests would like a more in-depth eading, they can schedule one for a later day/time.
If you would like to have Madame Rue or Doctor Nikki at a party for you, please contact us to see how we can tailor an entertainment package to meet your specific needs.
1-800-496-3114