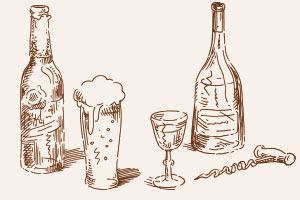 Make It Better Yourself
I have been involved in creating adult (alcoholic) beverages for nearly 40 years. Although I don't drink now (health reasons) I still enjoy the fun of putting up a batch of mead to give to friends for the holidays or helping friends with their first batch of wine.
Over the years I have developed a collection of recipes for mead, wine, liqueurs and cordials. Some can be made as quickly as in a half hour (a great hostess gift), others can take years to reach the time when it is best to enjoy the treats. I've brought all these recipes together in my book:
"Make It Better Yourself – A Primer For Meads, Cordials, Liqueurs and Cream Liqueurs"
For a donation of $5.00 I will be happy to send you an e-mail copy (MS Word document – if you have other requirements, please let me know) of the book. Hardcopies of the book are available for a donation of $7.00 and shipping fees.
Here's a sample of one of the easy and simple recipes you'll find in the book. With the holiday season just around the corner (no matter what time of year you read this…there's a holiday just around the corner!) and all the fun of the holiday parties and dinners and get-togethers, I chose this recipe because you can make it in your kitchen in just a few moments, pour it into a decorative bottle you got at the discount store, add a bit of ribbon – bow – raffia – or string, and ta-da! The perfect gift for the hostess with the mostess! This was a First Prize Winner several years in a row. A great drink and it's fantastic in coffee!
Double Chocolate "Scotch"
People's Choice – Alaska State Fair
1 cup heavy whipping cream
1 cup high quality single or double malt scotch
3 heaping teaspoons of instant dark chocolate pudding mix
1 cup of white sugar (not a substitute for some reason they don't seem to work)
1 teaspoon chocolate extract or 2 to 4 Tablespoons chocolate syrup
Combine all ingredients except cream in blender and mix well – at least 30-45 seconds to make sure the sugar is well combined. Add cream and pulse until well blended. Taste and add more chocolate if needed. (Not too much or cream will thicken – which isn't always a bad thing by the way – it makes a great decadent dessert in a parfait cup with harlequined strawberries!) If cream does over-thicken, thin with a little milk. Let age for 48 hours, then it's ready to drink (you can drink it right out of the blender, but that's a little raw…the 48 hours allows for all the sugar crystals to break down). Store in the refrigerator. Great in coffee, decadent over ice cream…decadent as a whipped mousse-like dessert! Enjoy!