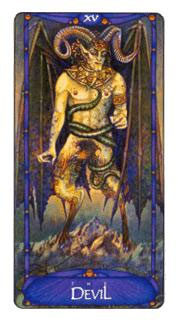 Straddling a craggy mountain the Devil's cloven hooves are planted on the earth. His wings, leathery like those of the bat frame his anamorphic figure. His feet are the cloven hoof of the beasts of the field, his legs are formed like the back legs of a quadruped rather than one who walks on two legs. His chest, arms and hands are humanlike, but the points of his fingers allude to an animal nature. On his chest is a pentagram, carved above the nipple. His collar is of gold and semi-precious stones. The rams horn and animal ears belie his near human face.
The Devil speaks strongly no matter where he falls in a spread. If he has turned up in your cards today make sure to look at your personal motivations. Are you allowing yourself to become entwined in the machinations of others? Some Tarot experts consider this the card of divorce.
The Devil talks about personal downfall because of lack of understanding. If the Devil is looking at you from the cards, look around you because it is sure that there is a situation developing that you have helped create and, by positive affirmative action, you can change that energy flow. The Devil also speaks of becoming mired in one's own thought processes and ignorance. Although uncomfortable, the Devil can teach us much about how we relate to ourselves in our life!