Page of Coins (Pentacles)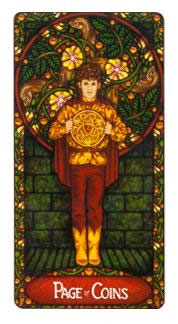 The Youth stands before a window graced with elegant weasels and the woods roses we saw in the Ace. He holds a decorated coin with the leaves of the great maple tree upon it. He stands in a nearly military pose and his expression is one of serious and intent alertness.
The page speaks of concentration and application. He shows the way to make new ideas become more than just a reflection of the life you hope for. He may be a bearer of news offering a positive opportunity (although it may not necessarily be financial in nature).
Suit of Coins (Pentacles)