Queen of Coins (Pentacles)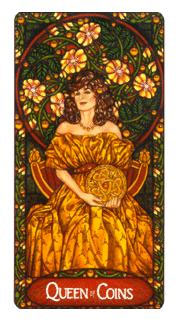 Sitting upon her throne the mature queen is beautiful and serene. She faces away, looking forward to the future, or perhaps back to the glories of her past. She is surrounded by the woods roses that appear in the Ace and in the Page. Her expression shows she is quite capable of quick and appropriate appraisal of a situation, opportunity or a person's character.
The Queen of Coins is grace personified. Her gown with it's many folds and richly studded with gems shows her opulence. Security is hers and from that security she can bestow the gifts of generosity and magnificence to those she comes into contact with. If the Queen is looking down her nose at you, you need to see if the prosperity you perceive is really there for you. Are you so afraid of failure that you are unwilling to take the risk at all? The Queen challenges you to achieve the heights of life's pleasures as she has…through diligent effort and continued works. She reminds us we are nearing the time when it will be appropriate to set new goals.
Suit of Coins (Pentacles)