Three of Coins (Pentacles)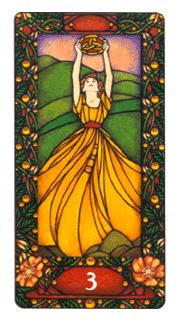 The woman dances in a field of abundance, glorying in her accomplishment as she celebrates, holding the coin. The man is absent indicating that the achievement represented by the Coin is one of her own making.
The Three of Coins speaks to us clearly of celebration. The dignity of achieving perfection is within your grasp. Remember that your perfection is within you alone…don't judge yourself by other's standards. Mastery of any skill or part of life is an achievement to be celebrated. The woman dances without looking below to see where her feet are going. If she seems to be dancing a dance of folly you may want to see if there are money problems or sloppiness that truly needs more of your considered attention.
Suit of Coins (Pentacles)