Learn more about Dr. Nikki here

Born in a small town in northern New Hampshire, I have walked a wide and varied path to get to where I am today. In a society that labels people by what they do for a living, I'm kind of difficult to peg down into any one area. I've been a waitress, a bookkeeper, a secretary, a paralegal, a law office administrator, a noncommissioned officer in the US Army, a security guard, a bank teller, project manager for construction companies, asbestos abatement worker, a cashier, short order cook, and more. Having left home at a very early age, I learned how to make my way in the world in a variety of ways. Although they may say something about my capability to earn a living, I don't feel that my previous occupations do more than give you a hint. Now that we have the boring work stuff out of the way…here's a little more of the real "story."
Dr Nikki was born in a small town called Littleton, New Hampshire, youngest of a family of three kids. Her Dad was a trucker and gone most of the time while Mom worked several jobs to make ends meet. Summers were the best! That's when Mom would literally shut down the house and we would go to Twin Points Campground for the summer. Twin Points was located on a small lake and the best place for a kid to spend the summer months. We swam, fought, danced, played cards, games, read books and spent a lot of time outside. When we weren't at the campground one of Mom's favorite sayings was "Go out and play in traffic, come back when you're 21!" with a twinkle in her eye. Mom just didn't believe in boredom. Telling her you were bored was a sure fire way to get an extra chore or two to do.
Music has always been a part of my life. We grew up with music in the household. Mom had played piano professionally in a trio for several years, and Dad could pick a tune on guitar and banjo pretty well. My oldest brother had a band that practiced in our living room for years – he still works in a band, and my other brother plays drums for a living. With all the friends thrown in back there in Littleton, well, we had a lot of musical good times. Hootenannies (yup, it's a hootenanny when ya sing, and a "ho-down" when you dance) were a regular happening at our house – I can't remember the number of times I fell asleep listening to the pound of the keyboard of honkey-tonk piano (Mom), the strum of country guitar (Dad and his friends), the twang of a banjo, and lots of hand clapping and hearty singing and the laughing from the parties held. A lot that happened then would do more than raise an eyebrow now, but it really wasn't too awfully bad. It was fun. Our parents were hard-living, hard-loving, hard-fighting, hard-working, hard-drinking folk who were no more and no less than who they were.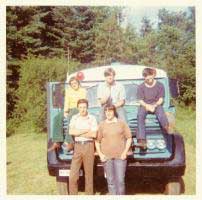 On New Year's 1971, Mom got Dad to promise to give her a long held dream. Mom had always wanted to move to Alaska. Well, 6 months later the house had been sold, we had converted a 66 passenger school bus into a camper that we called "The Blue Goose" and we hit the road. In a round-about way, driving across the country and up the Alcan (Alaska-Canadian Highway) we made it to Alaska. It was the trip of a lifetime. The Alcan hadn't been paved yet, my two older brothers were there to crack jokes and generally create fun and havoc. Dad was always the great innovator. A hammer handle and old rag became the oil cap for the bus when the real McCoy was lost somewhere along the way. Singing, laughing, cussin' and fightin' we crossed the county with music and song. Willie Nelson's "On The Road Again" was the theme song for that summer and was sung heartily as we crossed the Continent. We arrived at the Alaskan border on August 4, 1971. Alaska was just starting to explode with the hay days of the Alaska Pipeline when we arrived.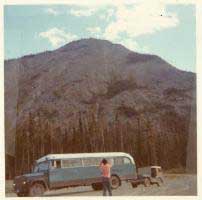 Following being flooded out of the campground, we were rescued by the daughter of a neighbor from New Hampshire. She put us up with her family in their home until we could get an apartment. Things seemed to be going great for us, and our family had found a new home. Both Mom and Dad found jobs, so did my oldest brother. Us younger two were enrolled in junior high and high school and life moved on.
In March of 1973 tragedy struck when my father died. His death was sudden – a massive cerebral hemorrhage – he didn't suffer long. Mom stood tall, but it was a difficult time for us all. Mom met a new man and remarried in August of that year to a man who had six daughters. Between the alcohol, the mixed family, the close quarters, and a lack of willingness to try to fit in, I just didn't jive with the new family. By 1976 I had left home and was making it on my own.
For a few years I bounced around, married and tried again. Went back to high school and got my diploma (thanks Mom!) and grew up a little. But, just a little. Then in 1979 I joined the Army. I was lucky – my career was much more like MASH than Saving Private Ryan. I had great assignments. I got to play "Army games" a lot. I enjoyed my time in service and will always be thankful to my Uncle Sam for all that he taught me about the world and myself.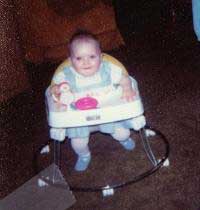 A daughter entered into my life in September of 1981 and made me appreciate my mother more and more every day for nearly 20 years! But my daughter was a joy and precious ray of Sunshine. Another divorce and shared custody of the girl. Then, it was living in the barracks, going out rappelling with friends, hiking the high country, going to the range and popping off a few rounds. Then there was another marriage and divorce.
In 1985 I was stationed at Fort Richardson, Alaska. I had been in the service nearly six years, I was an NCO and had finally learned a lot about myself, what I could and could not do and all that jazz. (Even in wartime I strongly recommend military service – it does make you appreciate so much!). Ft. Richardson I met Reverend Jim and we were married in April of 1986. Since then we have been partners through life. We've helped each other through the loss of our parents; friends; our daughter growing up and leaving home, emergency operations and surgeries, financial set-backs; building our dream and so much more. In 1996 we moved from Alaska to Montana after Reverend Jim had fallen and severely injured himself (he's now medically retired).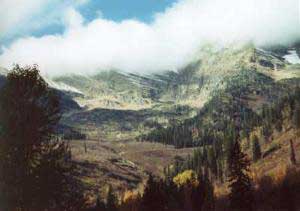 Our daughter got married on September 11, 1999 at our home. I even got to perform the ceremony! Then, she went off to her life and we focused on ours. A few years later I was watching the news early one morning and I watched dumbfounded and stunned, horrified as the Towers fell. Following 9/11 both Reverend Jim and I were willing to go back into military service, but we were just too old and broke. After a lot of discussions and talking we came up with the idea of developing Black Rose Spiritual Center to try to do something positive to help. Reverend Jim and I choose to separate for a lot of reasons. His health had been deteriorating, and he needed to get to a better climate that would be gentler on his physical ailments. The house was sold and Reverend Jim has moved to North Carolina.
Throughout my life I have been absolutely fascinated by the spiritual realm. Whenever I could I took a course, a class, a seminar or symposium on spirituality and life cycles. I worked reading cards at Renn Fairs and party entertainments. I did readings for friends and family. I kept digging and searching for the spiritual answers. By my searching my natural gifts and abilities were honed, and, somehow, along the way I had picked up enough training and education to obtain the long held dream of degrees in Divinity and Theology (although I never dreamed I'd make it to the doctorate level!) I also buckled down and did the work to get myself ordained…as a psychic, esoteric, spiritual, and interfaith minister along with being a high priestess.
There you have my nuts and bolts. Now for the stuff you're probably really interested in – my gifts. I wished I could find an easy way to describe them, but well…I just can't. I also can't remember a time when I didn't *know* things. Yup, I was the kid that always knew who was on the phone. I was the kid who knew when to "get out of dodge" before the adults showed up. I always knew when a member of the family or someone I cared about was sick or had just died. For the longest time I couldn't understand why people looked at me funny. It wasn't until I was a little older (5 or 6) that I realized that everyone didn't see things that I did. For a long time I hid it…only doing readings in disguise or in places where I wouldn't be known.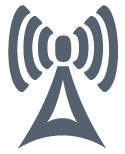 I consider myself a "receiver" or "antennae." While doing a party reading a few weeks ago for a group of ladies they asked if I was exhausted or washed out from doing so many readings for so long (we did readings for about three and a half to four hours, kind of jumping back and forth between people, etc.). I had to admit that I was more jazzed than fried. The antenna doesn't get tired – it just does its job. In some ways I am that way too.
My gifts manifest in a variety of forms. Sometimes it's hearing a song in my head (remember the music connection above – well, I play at the piano and I play at the guitar and I took a couple of years of clarinet, but the music gene in the family kind of skipped me. I love to sing, but more often than not I can't carry a tune in a bushel basket to say my soul on a Saturday). I remember words of a song like they were printed in front of me on a piece of paper. A lot of songs I have never heard before I already know the next line. What I've found is that there are messages in the music that pops into my head…I don't torture my clients by singing to them off key, but I do repeat the words to you so we can find the message in the song. Sometimes its not the actual words to the song, sometimes its the general feel, tone or message in the song. Sometimes the song makes no sense to me, but for the client it is a great revelation.
Sometimes it's a whisper in my ear. For example, car shopping is probably the best thing. For 20 years in our family when it was time to go get a different or new car I was always the one to pick the vehicle. I'd walk through the lot, knowing how much money we could afford until I would hear my Dad's voice in my head saying "That one!" And that's the one we buy. But Dad and a variety of others "whisper in my ear" on occasion, telling me things I need to know.
Sometimes it's a sudden physical jolt when a certain question is asked – those are all signals for me…that's how my clairvoyance/clairaudience works. If I'm having difficulty finding a point of focus I'll normally use the Tarot to help strengthen my connection with you.
Essentially, I have over 40 years of reading experience to put to work for you! I hope you call today!
1-800-496-3114